New Emergency Vehicles for Any Need
Situated on 4 acres, Fire & Safety Services is located in South Plainfield, NJ. Our territory includes the state of New Jersey and we have 9 sales representatives that actively work and represent Fire & Safety Services in their territories within the state. Our salesmen together average between 48 to 60 trucks a year, so we are extremely experienced with a wide range of department needs and requirements. On top of being experienced, our staff is passionate about the industry and what they do. A lot of them serve on volunteer departments or have in the past, so they know the job and respect it.
We realize that the sale is only the beginning. You need a truck that you can rely on day in and day out, and that means you need someone you can count on to be there for the next 20 years to help you maintain it. That's why we also are invested in extensive capabilities and resources to support our customers after the sale in service. As our customer, you won't just be buying an emergency vehicle from us…you will be buying our 54 years in the industry. We can offer the peace of mind that we will still be here 20 years from now when your truck is aging. Our industry has gone through several contractions over the last 10 years or so, and a lot of brands that were around a few years ago aren't any more. We aren't perfect, and neither are our manufacturers, but we will stand behind our product and our work. Housing over 18,000 sq.ft. of building, over 15,000 sq.ft of that space is dedicated to parts and service alone! We are an ASE Blue Ribbon certified facility and have a minimum of 4 EVT master technicians working in the shop or on the road. With our experienced sales and service team, we are confident we can help your department find and maintain your next fire apparatus!
Contact us today!
Interested in learning more about the new emergency vehicles we have available? Contact us to discuss!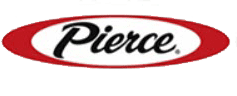 Pierce Fire Apparatus
Pierce Fire Apparatus is your single source global leader in custom fire apparatus innovations and manufacturing. Pumpers, Aerials, Tankers, Rescue trucks, and more! Behind every Pierce truck is a team of professionals whose mission is to build your truck, exactly how you ordered it. For Pierce, every step of the process is personal; from innovation and expertise, to the customization and service.
Learn More for Fire-Related
Learn More for EMS/Police-Related

Frontline Communications
Frontline Communications manufactures Mobile Command Vehicles, Broadcast Trucks and Communications Trailers. From small SUVs to tractor drawn 53-foot trailers, Frontline vehicles deliver reliability through innovative vehicle designs and integrated systems solutions. Since 1985, each Frontline vehicle rolls off the line ready to perform – and serve for years.
Learn More for Fire-Related
Learn More for EMS/Police-Related

Skeeter Brush Trucks
Skeeter Brush Trucks were designed with the collaboration of wildland firefighters and engineers. Their solution is a true custom wildland apparatus manufactured to NWCG standards. Skeeter puts emphasis on protecting the chassis and body through reinforcements and armor to take the personnel and equipment to the fire and fight offensively while minimizing manpower.
Learn More

Vengeant Apparatus / 911 Rapid Response
911 Rapid Response has a decade-long history of building hundreds of emergency vehicles a year all over the northeast, focusing on up-fits and layouts that exceeded expectations and deliver quality vehicles. In 2018, they started Vengeant Apparatus to focus on custom rear modular units for F-4/550 style chassis for Fire, Police, and EMS. Utilizing a cage-style construction by way of a high-strength, extruded aluminum body, their designs combine strength, functionality, and durability.
Learn More for Fire-Related
Learn More for EMS/Police-Related

B.R.A.T. Rapid Attack Trucks
The B.R.A.T.® Brush Rapid Attack Trucks are designed to provide reliability and safety. They have utilized over 30 years of experience in designing a brush truck built for tough jobs in those hard-to-reach areas that other trucks just can't get to.
Learn More

Stonewell Bodies
Stonewell Bodies is dedicated to serving the fire, rescue, EMS, and tactical industries. Well aware of the demanding environments these services operate in, Stonewell Bodies has made it their business to ensure their rigs stand up to the same rigorous requirements.
Learn More for Fire-Related
Learn More for EMS/Police-Related
What to Expect When Working with FSS
When we first meet with a customer, we try and get a sense of the community, what challenges it has, and how they approach firefighting. From this conversation, we work to gauge the difference between their needs, wants, "nice to haves." The next topic we review is the customer's budget. Budget is an important aspect as our apparatus are "packaged" into three separate areas: cab/chassis, pump house (if applicable) and body. – Fire and Safety Services can mix and match these different components to meet a department needs, but if we aren't don't know the budget, it could cause us to recommend an apparatus out of a department's range. We always like to recommend the best configuration for one's needs, but if we know the budget range, but we can still offer you a great configuration and meet one's budget.
Once the initial meetings are completed and the requirements refined, we work to provide draft drawings and specifications for the apparatus as discussed. If a contract is awarded, we work with the department and the community leaders by obtaining the proper paperwork and coordinating any payments or financing that is required. Working as a liaison between the department and the manufacturer, we assist in the final blueprint review and approval, going over any recommended changes advised by the engineers, as well as any changes made by the customer after reviewing the prints. Changes also sometimes happen after visiting the factory and seeing other units under construction. We then provide the customer weekly progress reports of the unit as it is being built, we do the final inspection with them at the factory, and then prep the unit for final delivery after it leaves the factory. After we ensure everything is as expected with the apparatus, we receive final payment and customer gets their brand new truck to show off!
Although some steps may not be as exciting as the final one when a customer gets to pull their new truck into the station, we enjoy every step of the process because we know what an asset we are helping to provide communities through the state of New Jersey. If you choose to work with Fire & Safety Services, we can promise we will be there every step of the way.
Contact us today!
Interested in learning more about the new emergency vehicles we have available? Contact us to discuss!
Comments are closed.